Enterprise Insurance has rewarded five (5) winners of the first draw of the Wodi3 W) Mu Motor Insurance Promotion for customers who insured their vehicles in January 2023.
The draw was held on Wednesday February 08, live on Peace 104.3 FM in Accra under the supervision of the National Lottery Authority (NLA) on the Caritas Lottery Platform.
Speaking at the Draw, Bernard Buamah, the Manager at the Caritas Lottery division of NLA, encouraged customers to patronize the Enterprise Wode3 W) Mu Promotion since its free, fair and the income generated by NLA from such activities is used to support social needs such as providing clean and safe water in less privileged communities.
The Head of Marketing & Communications at Enterprise Insurance, Mr. Mark D. Addison, entreated all who would like to buy insurance for their vehicles to do so with Enterprise because they are the only company offering instant rewards such as fuel coupons, gift items and running a Raffle Draw that rewards five (5) winners at the end of each month for an extended period to June.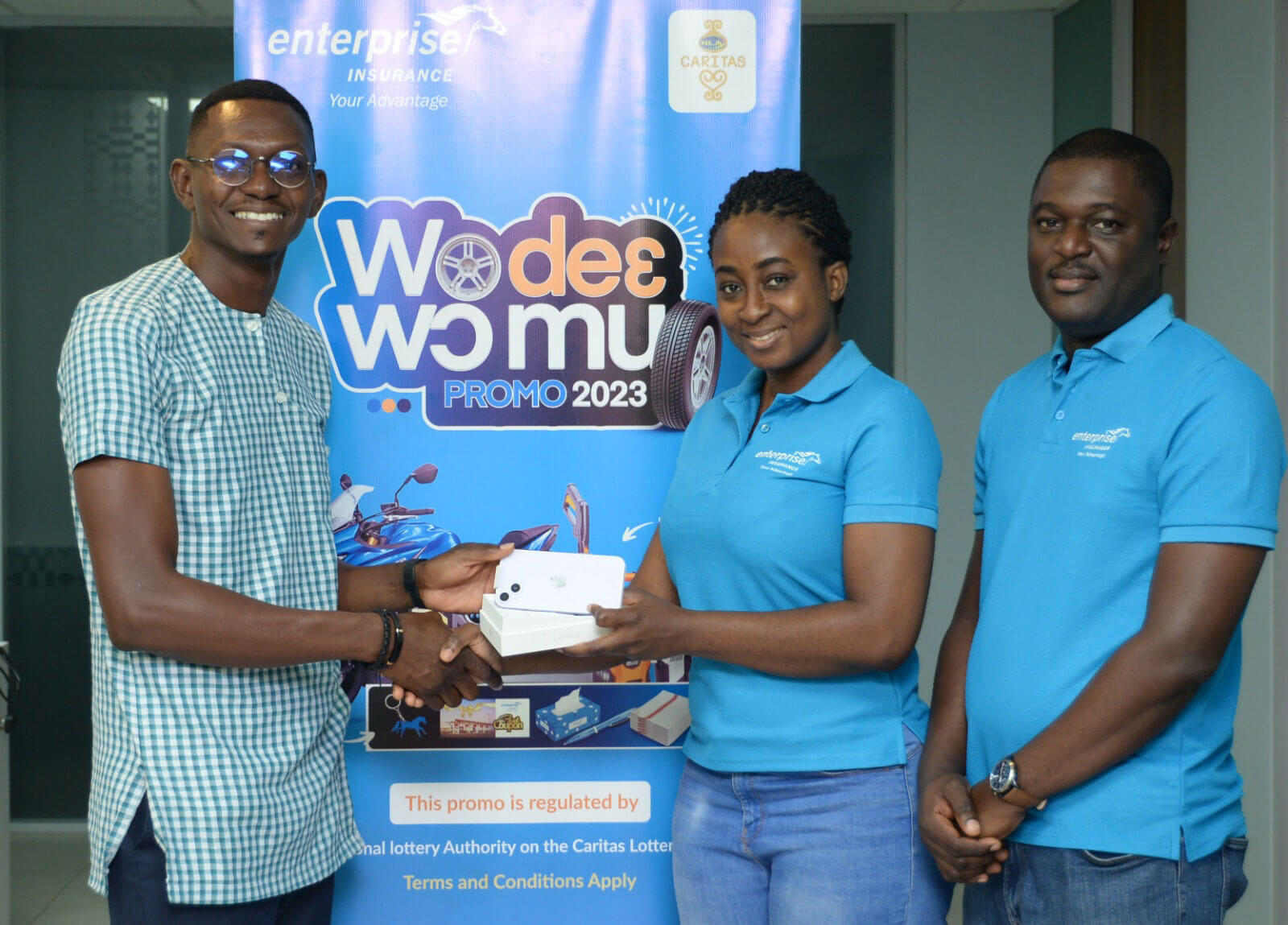 The Draw witnessed about 9,600 individual customer entries. The winners of the day were Samuel (Retail Branch) -I phone 14 Plus, Frederica (Tema branch) - Washing Machine, Kwesi (Weija branch)-High Pressure Washer, Kwabena (Achimota branch)- Auto Tire Inflator and Daniel (Odorkor branch)- Vacuum Cleaner. Congratulations to the first batch of Winners.
The rewards of the promotion are two pronged. First, the instant rewards, which consist of free fuel coupons and branded gift items and the monthly raffle rewards which have amazing valuables such as I phone 14 Plus, Washing Machine, High Pressure Washer, Auto Tire Inflator, and a Vacuum Cleaner. At the end of the 6-months promotion in June 2023, the overall winner of the raffle draw will win a premium Crotch-Rocket Motor Bike.
In all, it is expected that by the end of the promo period, there will be 30 winners of the monthly Raffle Draws and 1 Winner of the Grand prize.
To qualify for the promotion, customers must simply buy or renew their existing Motor Insurance policies with Enterprise from January to June 2023. Depending on the premium paid, customers will qualify for the instant rewards such as free fuel coupons, gift items and stand the chance of winning any of the five amazing rewards in the monthly and final raffle draw.
Customers can visit the website of Enterprise on my.enterprisegroup.net.gh/insurance/ , download the Enterprise Advantage App or call 0302634777 to purchase or renew their Motor Insurance policies.